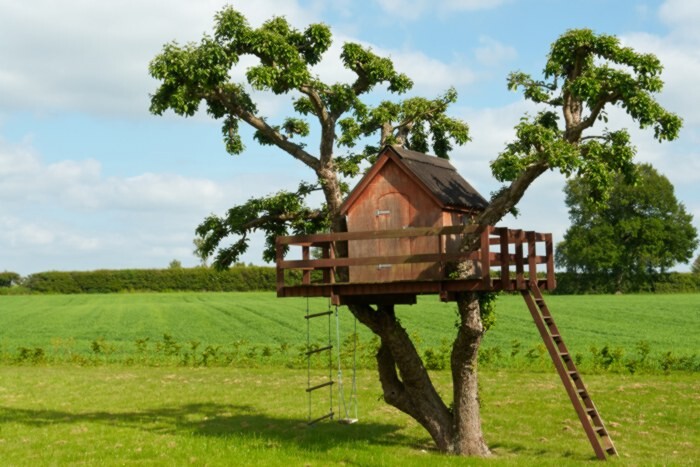 Once upon a time building a kid's tree house for your children was a sort of right of passage. A tree house is more than just a shelter in a tree your children will quickly tire of, or become terrified of when they learn they have to share it with nesting spiders; a tree house lets all your neighbours know how devoted you are to your children.
Tree houses are a bit of a relic nowadays, mainly because families with young children often live in flats the size of wardrobes.
If you are fortunate enough to have a sizeable garden with at least one large and robust tree, there really is no excuse not to build a tree house; even if you don't have children. Just note that if you don't have children you will have to call the tree house something different, like a chillout deck.
Before you get started
Check your local building regulations. Yes, sadly some councils have building regulations regarding this type of structure. Make sure that your dream tree house falls in line with the government's strictly regulated vision of safe, permitted fun. All done? Let's move on to the planning stage.
What you'll need
1. A tree or trees:
In an ideal world you would have a vast selection of trees to choose from. You probably won't be this lucky. Make sure that the tree or trees for your house are mature and sturdy. Your tree house design will have to be adapted to the trees you have available. Given the choice there are benefits and drawbacks to building a tree house in just one tree or between several trees.
Remember that trees grow, so if you build a simple tree house in one tree, it is just the growth of this tree you will have to allow for. Building a tree house between several trees is a sturdier option as the weight of the structure will be divided between all of the trees, however you should bear in mind that the trees will grow at different rates and may grow apart.
2. A plan:
Start with a rough sketch. Initially focus on the base of the tree house and its support. It's relatively easy to add walls, but getting the base right is paramount. Envisage how the base will sit on the tree (or between tree) and think about access. Think about other aspects of your design: will you want to add a slide? Does this mean the platform has to be at a particular height? Will the tree house have a trap door? If so, think about where it will go and make sure there is room for it.In order to add walls and the roof you may need to cut off some branches.
Make sure there are no large branches in the way, unless you can incorporate them into your design. Once you have a rough sketch you'll have to take measurements. This is where building a platform between trees can be easier: it's a lot easier to measure the space on the ground between trees than to measure up in a tree. Mark the points where your base will sit with chalk, then ensure they are the same distance from the ground. This is important as you want your base to be level to the ground. Once you have designed the base you can think about walls and a roof. Remember to mark out the space for doors and windows in your design.
3. Tools:
It's time to tool-up. Your choice of tools will depend to some extent on the materials you plan on using. But you are sure to need: A saw, a drill, a screwdriver, a hammer, a tape measure and a spirit level. A circular saw is probably going to be a practical bet, although a mitre saw is ideal for cutting precision angles into wood. An electric screwdriver will make light work or screwing in screws, although some drills come with a screwdriver function.
If you are using electric tools at the site of the tree house, make sure that they are battery powered or that you will be able to reach your power source from the tree. You can opt for manual tools, if you prefer, for a truly rustic tree house building experience.
4. Materials:
You'll need some wood. Scrap wood isn't necessarily easy to come by, but if it's an option, it's a great one as building materials can be pricey. Pallets can be great for building a base. Whatever your choice or materials, make sure that your tree (or trees) can bear their weight. Be imaginative: tin or fibreglass panels can make good roofing, so hunt around for anything you might be able to reuse.

Building the tree house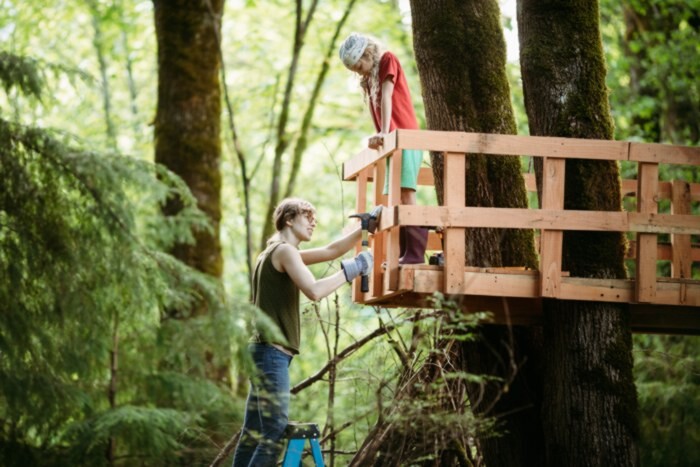 The base
When building even a simple tree house, the base platform is usually the hardest part to get right and the most vital one.
Based on your measurements, build your wooden frame. Depending on your tree and materials, you may decide to build a basic floor frame first, then add panels once the frame is on the tree. You may decide to use a finished platform like a pallet for the base. A finished platform will be heavier to lift and allows for fewer adjustments, but can still work perfectly well.
To place the platform on the tree or between trees we recommend you screw sturdy blocks of wood (or beams of wood, if practicable) onto the tree at the height where you want the platform to sit. These will act as support brackets, making it infinitely easier to get the positioning right. Wherever you're using a key supporting structure, don't fasten with rope or any other types of ties. Opt for large, long heavy-duty bolts as these spread the weight better and cause less damage than a multitude of nails and screws.
When it comes to positioning the frame or platform it may make things easier to use a rope. You may choose to hoist the platform up using the rope itself, or just use the rope as an additional safety feature to stop the frame from falling, until it has been secured into place. Hopefully the frame will sit comfortably and evenly on its blocks. You can now proceed to attaching the platform to the blocks and to the tree. If you need extra supports, attach these next.
The floor
If your platform isn't ready-made, you can now place lighter planks or panelling over the top. Ensure that there are enough beams crossing under the lighter planks to provide safe support. If you are going to install a trap door, be sure to make an allowance for this.
Walls
Start by building a frame to work on with vertical beams screwed to the base frame and positioned at set intervals. Some of your vertical beams may need to be longer, to allow for the slope of your roof. Hold vertical beams in place with horizontal beams. Remember that you will need to create a frame around the door and windows, so make sure you add these at this time.
Your wall sections can be made up of any number of materials. Attach them by nailing them to the outside of the vertical beams, working from the bottom up.
Roof
The roof adds extra weight too, so if you can source a light material for the roof, it is worth considering: thick plastic, tarpaulin or other materials can be stapled to the frame using a staple gun. Plastic panelling or plywood are also effective options to consider when building a tree house.
The extras
Now you can focus on the finishing touches such as the ladder, railings, swings, ropes or slides. After this the tree house is ready for the kids to decorate and make their own.
Helpful advice for tree lovers
Trees don't love having this nailed to them, so aim for minimal damage. A few heavy-duty bolts for the load-bearing structures will cause less damage than an infinity of nails and screws. It may pay to add additional load-bearing support posts, so that some of the weight of the tree house rests on the ground below.
Make a ladder that is attached to the tree house and avoid nailing boards directly to the tree. This is usually unsafe and damages the tree unnecessarily.
Remember that trees are living, growing things. Leave room wherever possible for tree branches to grow and remember to check the stability of the tree house structure every few months in case any part needs adjustment.

If building a kid's tree house is on your to-do list for the near future, PSM Hire have you covered. Providing highly reputable plant and tool hire in London and Kent, we have all the tools you need to make your tree house building dreams a reality. For more information on our tool hire services, get in touch with a member of our expert team today on 02088 50 56 58. Our team is always happy to help.