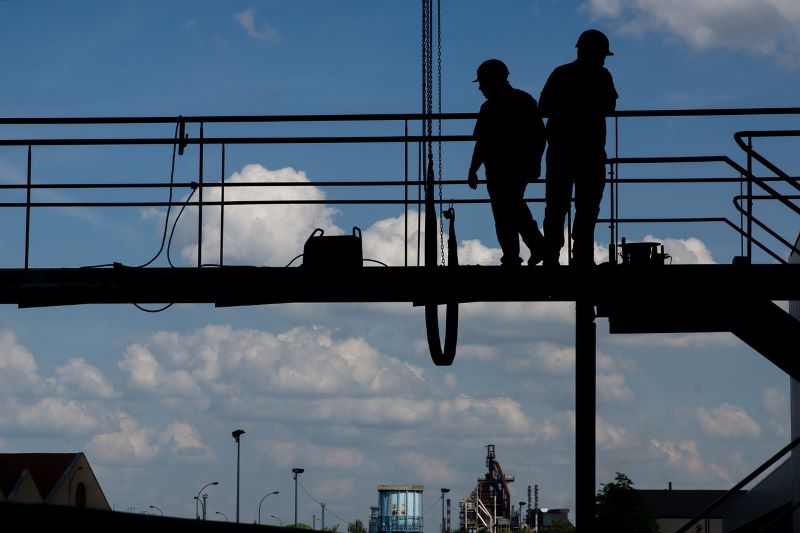 Working at height presents a unique array of challenges. From construction and maintenance to utilities, several industries consider this hazardous activity a crucial consideration. To ensure the safety of workers whilst working at height, project managers must implement effective control measures. In this article, we take a look at ten of the most common working at height control measures to consider for your site, from using barriers to providing adequate training.
What is Considered Working At Height?
Working at height generally refers to any task that involves a person operating at a level where they could fall or suffer an injury. The exact definition varies depending on the industry, however, in general, working at height encompasses activities that occur above the ground or at an elevation where a fall could result in physical harm.
Working at Height Hazards
If not properly managed, working at height can result in serious injuries. Before we can assess the appropriate control measures, it's important to identify and evaluate the potential hazards. They include:
Falls - The most significant risk when working at height, falls can occur from ladders, platforms, scaffolds and roofs. Even a relatively short fall can cause serious damage.
Unstable Surfaces - Uneven, slippery surfaces can cause workers to lose their balance and fall. This includes surfaces with debris, oil, water or ice, as well as unstable scaffolding platforms.
Weather Conditions - Adverse weather conditions like rain, snow and fog can increase the risk of falls. It's essential to monitor weather conditions and adapt the task at hand accordingly.
Equipment Failures - Regular inspection and maintenance can ensure working at height equipment such as ladders and ropes are operating correctly, preventing the likelihood of accidents occurring.
Fatigue & Complacency - Tired workers are less likely to pay proper attention to safety precautions, increasing the likelihood of incidents occurring on-site.
Working at Height Control Measures
To ensure the safety of workers who perform tasks at height and prevent accidents from occurring, it's essential to implement effective control measures on-site. Ten of the most common working at height control measures include:
Conduct a Risk Assessment
Before any work at height begins, a thorough risk assessment should be carried out. This document should identify any potential hazards, evaluate the risk involved and determine the appropriate control measures required. The assessment should consider factors such as the height of the task at hand, weather conditions and the equipment used.
Provide Adequate Training
All individuals involved in the task should receive proper training. They should be familiar with the equipment, safety procedures and emergency response protocols. This will ensure all workers are competent and aware of the risks associated with the task.
Use Barriers
Able to prevent workers from accidentally falling from height, barriers should be installed wherever necessary. When properly designed and maintained, barriers provide an effective method of fall prevention.
Personal Protective Equipment (PPE)
Including items such as harnesses, helmets and safety goggles, PPE is essential when working at height. Workers should wear PPE at all times to reduce the risk of injury.
Ladders & Scaffolds
To ensure safety, all ladders and scaffolds should be inspected before use. Any damaged or worn equipment should be replaced immediately. Workers should be trained in the correct set-up and use of this equipment. At PSM Hire, our fleet of reliable height access equipment, from extension ladders to podium steps. To find out more, please get in touch. Give us a call on 02088505658 and speak to one of our friendly advisors today.
Regularly Inspect Equipment
All equipment used for working at height should be inspected on a regular basis.
Safety Nets
Used as a last resort to catch falling workers, safety nets can prevent individuals from hitting the ground. They should be installed below the work area when other control measures are not a feasible option.
Prioritise Communication
Establish clear communication protocols, such as using radios and signals to maintain contact between those working at height and those on the ground.
Ensure Control Measures Are Followed
Assign individuals to supervise and monitor the work at height to ensure that control measures are followed and to provide immediate assistance in the case of an emergency.
Keep Records
Maintain records of risk assessments, training, equipment inspections and incidents. This will be essential for compliance and continuous improvement.
Working At Height Equipment
At PSM Hire, we're pleased to offer our customers access to a range of working at height equipment for hire. From ladders and platform steps to supports, we can provide everything you need to ensure the safety of your workers.
To find out more about common working at height control measures, or to enquire about the working at height equipment we currently stock, please get in touch. Give us a call on 02088505658 and speak to one of our helpful team members today.